Skulker
Double Bladed Staff Build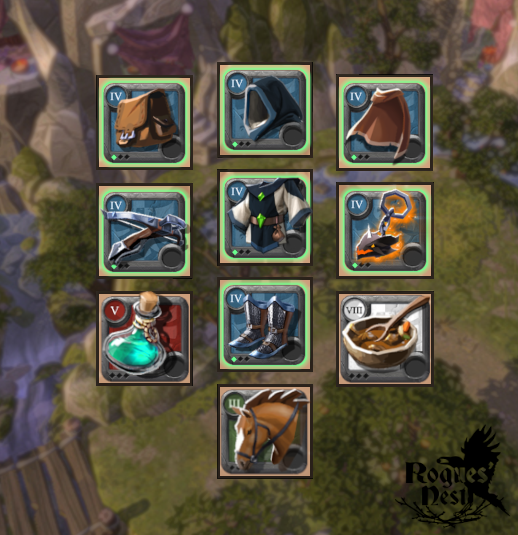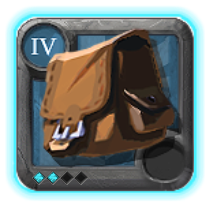 Hate the idea of an opponent escaping you, are you willing to sacrifice some of your ability to fight for an unparalleled ability to stay on top of your target and make sure that escape isnt an option? The Skulker build lets you lurk in the shadows, around corners or at key points of travel, before launching onto your prey. It also has amazing escape potential should you end up in some trouble when your target's friends show up.

The core combo with this build involves activating your hunter shoes and stun run skills together, before jumping at your opponent with soaring swipe then auto attacking your opponents. This drops your demon cape under the target as well as stunning them in it. Throw a poison pot and keep hitting concussive blows and auto attacks to dismount your target. Alternative, you could use an invisibility potion to sneak up on your target, and hit with a stun run to just start dealing damage, and save your soaring swipe to stay in range to purge their shoes should they try to flee.

You main way of trading damage with someone who wants to fight is by dealing your damage, whilst hindering their ability to deal their own damage through the crowd control you have available. This means you are often not "brawling" with opponents, but rotating in and out using your mobility to cycle your cooldowns.
---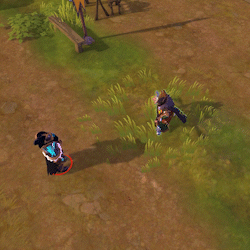 Concussive Blow: Does damage to your target and builds stacks on yourself, when you have two stacks on yourself, and use concussive blow again, you will stun your target for a short duration. You can time this well to interrupt channels/casts or even to waste a brief period of your targets run ability.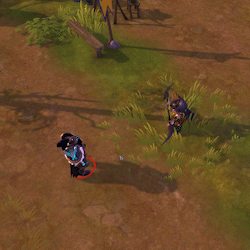 Stun Run: Increases your move speed and adds a stun to your next auto attack. Pairs great with the demon cape, which also drops on auto attacks to keep your target held down in the damage. A great ability to keep people in place. Forceful swing disables enemy auto attacks, so when fighting a spear, sword or bow, this can be a great option to pick in a fight.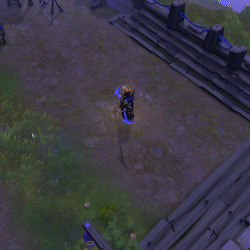 Soaring Swipe: A very low cooldown long range mobility that slows opponents in an area. Perfect for keeping on top of your opponent, or closing that initial distance to catch them. Great for aggressively chasing down fleeing opponents, but also amazing for being able to get out of trouble and flee a fight.
Fiend Cowl
On a build with such high mobility, being able to purge someone else's really puts you in control of the fight. Alternatively, should they have some strong sustain, damage bonuses or invulnerability, it can be a great choice to purge these effects off to stay competitive in the fight. Should you get in a fight with multiple opponents, or a very aggressive melee, the knockback on the Forcefield skill also offered by the cowl can be a great choice to switch to, enabling you to keep opponents at bay whilst you wait for your next cooldown.
Assassin Jacket
Damage, defense, and escape potential all tied up in one jacket. Hiding in ambush will slowly build up damage stacks on yourself, you don't have much damage available to combo with the ambush bonus damage unless you can come out of it with a stun run/demon cape combo, but you can also use it to hide from opponents when you don't want to get hit by something, or even just to buy some time for your spells to be back off cooldown. You can even use it to escape a fight, by finding the best spot to distance yourself from your opponents before using your mobility out of it to escape.
Hunter Shoes
The Hunter shoes offer a very quick sprint, allowing you to close distances fast, or flee opponents or spells you don't want to be around. These shoes help you close distance on mounts quick, and boost your cc duration, combining perfectly with stun run and soaring swipe. It's also great to get in range of someone you need to purge before their shoes carry them to safety. If you are going to get into a tough fight however, it might be best to swap to refreshing sprint for better uptime on your abilities.
Demon Cape
The damage from the demon cape pairs great with any crowd control, and because it activates on auto attacks, it works great with the stun run on double bladed staff to keep the target boiling in the lava it drops on the ground, for just a little longer.
none
none
Passives
One of the big problems with the double bladed staff is that it eats energy like crazy, the "energetic" passive grants you energy on every hit, helping you maintain your energy as you chase down or fight your target.Run "aggression" on the helmet, "balanced mind" on the shoes, and "quick thinker" on the chest for a great mix of damage and cooldown reduction.
Deadwater Eel Stew
Mounts can be tanky, so the extra damage of eel stew helps massively. The cooldown reduction also helps you to increase your mobility and stick to a target. With the passive selection detailed above, you will get around 15% bonus to both damage And cooldown reduction.
Poison Potion
The poison pot is important to help with dismounting, or preventing targets from being able to activate an invisibility potion. The damage on the poison pot is true damage, so it cuts through the defenses of a player or their mount, and with the resistance reduction, helps your demon cape do more damage.
---
Strengths
Amazing mobility
Great escape potential
Great at interrupting opponents
Good at dismounting
Amazing disable
Counters
Cursed staffs
Warbow
Deathgivers
Written by: none